Meet the Greensboro Chiropractic Staff


Ellie
General Manager Greensboro/High Point Chiropractic, Board Certified
Chiropractic X-Ray Technician
Ellie is one of the bubbly CA's you meet when coming into the office. Her energy and laughter light up the room. She has a deep passion for helping others, getting to know new people, and sharing all about chiropractic care! She began her journey with Greensboro Chiropractic in February of 2020 when she became a CA, and a new patient!
Her favorite part of Greensboro Chiropractic is the deep-rooted relationships that are developed between the Doctors, the team, and the community in Greensboro. Not only this, but she loves seeing all the little ones that come into the office; she has a love and joy for children! She lives in Jamestown with her husband, Randy, and their beautiful daughters, Amelia and Adelaide. When she isn't in the office, you can find Ellie on stage, singing at her church, reading in her hammock, or anywhere with her family and friends. In addition to this, Ellie loves movies, drawing, desserts of any kind, and playing board games!

Katelyn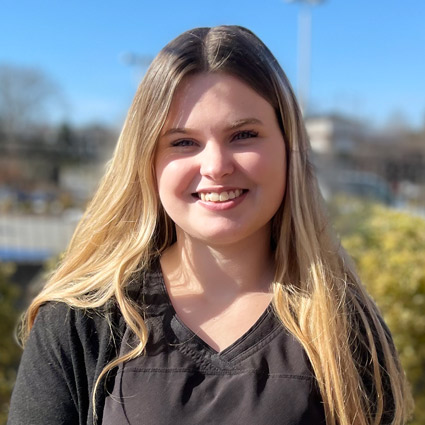 Board Certified Chiropractic Assistant, Soon-to-be Board Certified Chiropractic X-Ray Technician
Katelyn is one of the sweet smiling faces you'll see in our office. She grew up in Sanford, NC and moved around for a while until she moved to Greensboro, NC with her Husband and Son. Her favorite thing about Greensboro Chiropractic is how everyone genuinely cares about the health of our patients and the welcoming environment. She usually spends most of her free time with her son Grayson, and her Husband Eli. She also enjoys drawing, painting, and going to the beach or the mountains.

Chris
Morning Part-Time Chiropractic Assistant

Our Staff Greensboro Chiropractic | (336) 545-3132